Raving Fans
We've built and renovated many beautiful homes over the years. Here is what some of them have to say about our exceptional work and their experience of working with us.


"Tuatara Construction were amazing! Highly recommend them. Nothing was ever a problem for Brent and his team. The professionalism, beautiful workmanship and attention to detail shown throughout the whole job by the construction team was of an extremely high standard. Thanks so much for our new home Tuatara Construction!!!"
Sara Davis
Renovation
River Drive South Ballina
"Very glad to have picked Brent and his team "

"Very glad to have picked Brent and his team to construct our new home.
From day one Brent kept us in the loop with regard to every aspect of the build, all with an easy going manner and common sense approach. He and his team worked with a punctuality and attention to detail to produce a result of outstanding quality which is rare to see these days. Best of all the project was completed on time and under the allocated budget.
Thank you Brent, I would not hesitate to work with Tuatara in the future as I know I will get the results I expect for my hard earned money."
Alex
Lennox Head

"I couldn't be happier with the renovation that Tuatara Construction completed for us. Loving our location, a renovation was the best outcome. Giving us the extra bedroom, ensuite and the second living space we desperately needed. We engaged Brent early in the design stage, his experience helped us formulate practical ideas and good design solutions on how best to use the space we had.  We are very happy with the finished product and would have no hesitation in recommending Tuatara Construction to anyone. "
Audrey
East Ballina

Quality
Quality is not negotiable. We focus on building each house as well as it can be built. We are proud craftsman and produce the highest quality work. We always ask "what's the best way to do it?

Passion
We only employ builders who are passionate about building and enjoy providing our clients with the best possible outcomes. We attract extraordinary tradespeople and allow them to excel and build houses our clients love.

Synergy
It takes 3 key players to form a great team. The Owner, the architect and the builder working together as one. Clear and effective communication amongst the three key players ensures everyone knows where we are and where we are going next. This way the team can make the best decisions.

Respect
Treat others the way you would like to be treated. Respect for our clients, our team, our suppliers and everyone else involved in our building process is at the heart of our work.

Honesty
We have a reputation for being true to our words and actions. We assure you can trust us to deliver what we promise.
Trust
Over the years, we have gained trust and respect with our clients, partners and our local community. We act with integrity and prove ourselves to be open, honest and reliable. Gaining and keeping trust with our clients is our number one priority, and we strive to stay true to our values.
​WHAT ARE THE NEXT STEPS FROM HERE?​

Book a Coffee Consultation
The first step is to have a 100% FREE no-obligation consultation with Brent. Whether you're just starting to plan or you're nearly ready to start your build, we can help you out.

Receive a FREE gift*:
A $1000 landscaping gift voucher for you to kickstart your outdoor creativity.
*When you decide to contract Tuatara Construction to work on your project.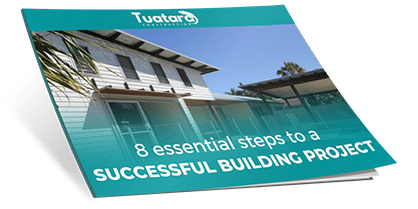 If you want to build your dream home in the next 6 to 12 months and want to avoid the horror stories of budget blowouts and timeline overruns, then this free guide is perfect for you. Download it, read it, and do not hesitate to get in touch if you have any questions.

Check our what other clients are saying about working together with Tuatara Construction.

The first step starts with a 100% FREE no-obligation consultation with Brent.
Book a Coffee Consultation
We would love to hear from you and your idea of your custom home. Call the office on 0401 415 469 or use the form below to schedule a free coffee chat and start turning your dreams into reality.